DxTalks released the results of the Top 25 Influential Women in Blockchain and Fintech in the MENA region.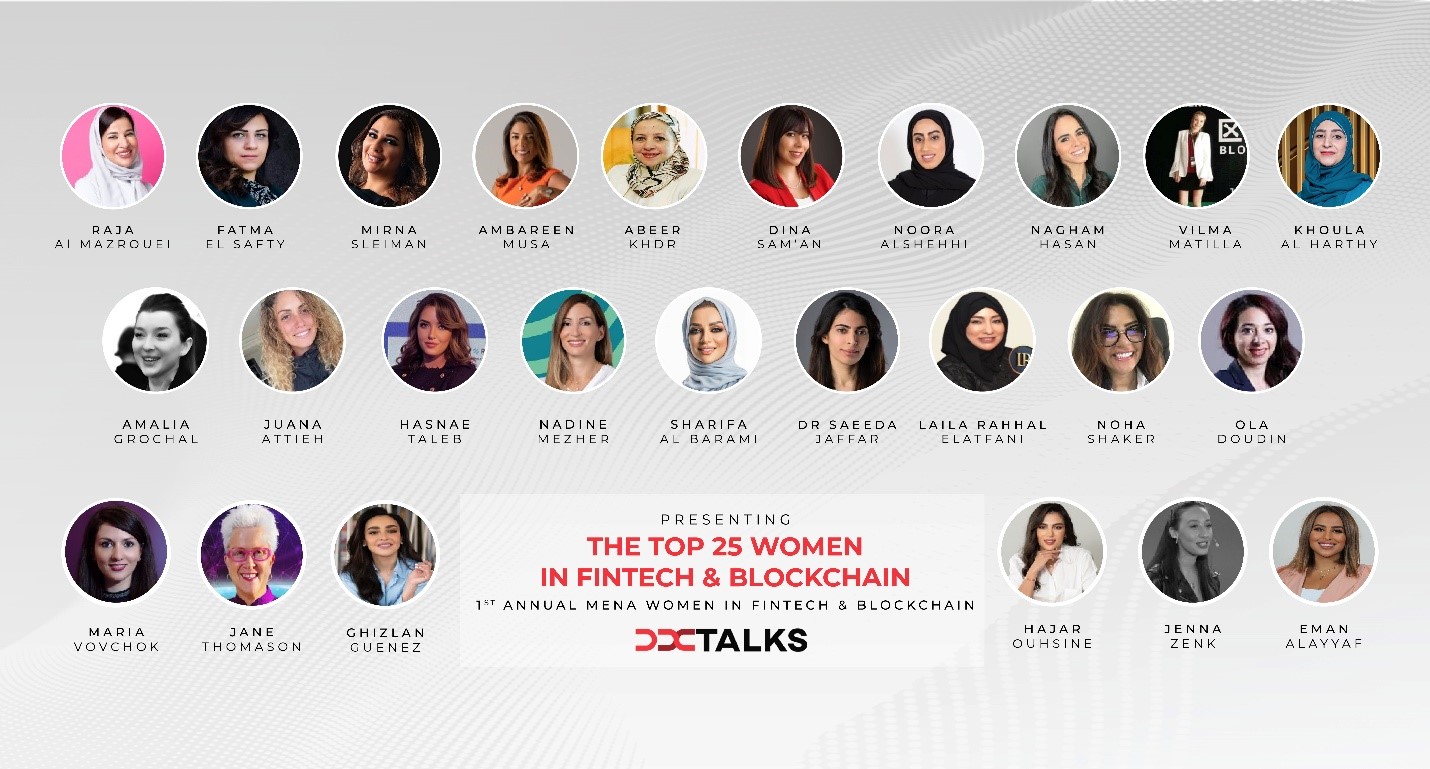 DxTalks, the Digital Leaders Platform for Events & Media Partnerships founded in 2020 by Keynote Speaker, Mentor, Judge, Member of the Forbes Technology Council, and Serial entrepreneur Rudy Shoushany, released the report of the winners of the top 25 Influential women in Blockchain and Fintech in the MENA region after a three months thorough and holistic nomination and judging procedures. 
The Recognition Award is the first of its kind and is a collaborative effort with Women in Tech Dubai, Arabs in Blockchain, Women Blockchain Talks, Lebanese League for Women in Business LLWB, and Noon DAO.
It seeks to acknowledge the groundbreaking and revolutionary strides MENA-based women are making in Fintech and Blockchain industry and serve as a motivation for more women who have the ambition of joining the industry to contribute their quota to technological advancement in the region.

Even though there are now more women in Fintech and Blockchain Development in the Middle East and North African region than ever before, all stakeholders need to unite to reward these efforts and ensure that the next generation of women continues to be encouraged to join the industry, especially in regions outside the GCC.
Within July and August 2022, we received more than 100+ applications from noteworthy and inspiring women in the Blockchain and Fintech Industry. However, with the aid of our experienced and impartial judges, we pruned down the numbers to the final 25 women who are awarded.
The final top 25 women were announced on 12th October 2022, along GITEX Week Dubai 2022 edition. All winners, judges, and the team involved were rewarded with unique and creative NFTs for their remarkable contributions to Blockchain technology and Fintech solutions development in the MENA region.
Noting that the Women in Fintech and Blockchain final nomination highest percentage came from the United Arab Emirates, where 60% of the selected are based. 
Saudi Arabia is second with 13% of nominations, while Oman and Bahrain followed with 6% of nominations. Others are Lebanon, Egypt, Jordan, Kuwait, and Morocco, with 3% nominations.
The report shows that we need to encourage more diversification and help women-led projects to thrive, especially in low-income countries to create economic opportunities and financial inclusion.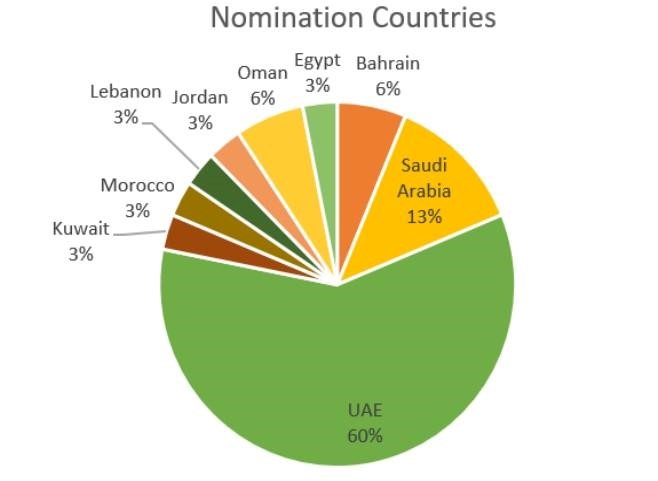 In his remark, the Founder of DxTalks, Rudy ShouShany, said the initiative is aimed at recognizing the efforts and leading roles played by these top 25 influential women during the accelerated digital transformation in the post-Covid-19 era and seeks to motivate more women to join the Fintech and Blockchain Industry to develop the region's technological advancements further. 
We congratulate the winners and the judges for their selection and hard work and hope that we can keep on inspiring the newer generation in this space.
Top 25 Women in Fintech & Blockchain:
Raja Al Mazrouei, UAE, Executive Vice President of FinTech Hive at DIFC.

Fatma Al Safty, UAE,   Founder & CEO at MetaEssence.

Mirna Sleiman, UAE, Founder & CEO of Fintech Galaxy ,

Ambareen Musa, UAE, CEO SOUQALMAL.

Abeer Khdr, Egypt, Global thought leader.

Dina Sam'an, Bahrain, CoinMENA Founder & managing director.

Noora Alshehhi, UAE, Blockchain instructor Excellence Swiss Blockchain.

Nagham Hasan, UAE, Bintcoin Blockchain and Crypto Media Education.

Vilma Matilla, UAE, Blockchain Tech Creator at 5ire.org

Khoula Al Harthy, Oman, President of Oman blockchain club.

Amalia Grochal, UAE, Founder MIRAI DAO.

Juana Attieh, Jordan, Founder L₳LKUL DAO & Co founder Fluus.

Hasnae Taleb, UAE, Founder & Ceo Mintiply, Inc.

Nadine Mezher, UAE, Co-founder at Sarwa.

Sharifa Al Barami, Oman, Investor & Media influencer.

Dr Saeeda Jaffar, UAE, General Manager of GCC Visa.

H.E Laila Rahhal Elatfani, UAE, Business Gate President & Founder.

Noha Chaker, Egypt, Secretary General of the Egyptian Fintech Association & Vice President of the Africa FinTech Network.

Ola Doudin, UAE, CEO & Co-Founder, BitOasis.

Maria Vovchok, UAE, Blockchain Association Ukraine Blockchain Journalist / Conference Host / Moderator.

Jane Thomason, UAE, Founder, Speaker, Author, Futurist Global meta Blockchain.

Ghizlan Guenez, UAE, CEO & founder of the Modist.

Hajar Oushine, UAE, Co-CEO & Co-founder of the Modist.

Jenna Zenk, UAE, Founder and CIO of Kindi Capital.

Eman Alayyaf, Kuwait, Chief Executive Officer CEO of eman Alayyaf trading.
Esteemed Judges:
Kokila Alagh, UAE, Founder at KARM Legal Consultants

Eman Herawy, Egypt, Founder Arabs in Blockchain, Co-Founder NoonDAO & ABW, GBA Egypt Chaper Lead, TechWomen22 Fellow, Devcon 5 Scholar Alumni Ethereum Foundation, Blockchain developer, Ambassador ConsenSys Qurum & Status.im

Randa Al Rifai, Dubai, Leveraging Blockchain Technology to facilitate literacy & growth, Entrepreneur, Consultant

Raluca Berchiu, Dubai,  Customer Experience & Digital Transformation Advisor | MBA

Nisreen Deeb, Lebanon, Executive Director at Lebanese League for Women in Business (LLWB)- IT specialist -System Analyst-Project Manager-Co-Founder of Girls Got IT -Techwomen Fellow -Chair of Arab Women in Computing Lebanon -Global Tech Leader

Amna Chaudhry, UAE, Global Winner of Woman in Web 3.0 Award, Financial Economist & Strategist for Blockchain, Metaverse & Web3.0

Laila Al Hadhrami, Oman, Smart Cities Expert, Change Driver, Visionary, Futurist, Digital Transformation, Empower Organizations, Leading Innovation, Global Keynote Speaker, Author, Tourism expert, Global Award Winning

Kholoud Alyami, Saudi Arabia, Central Banking, CBDC, Payments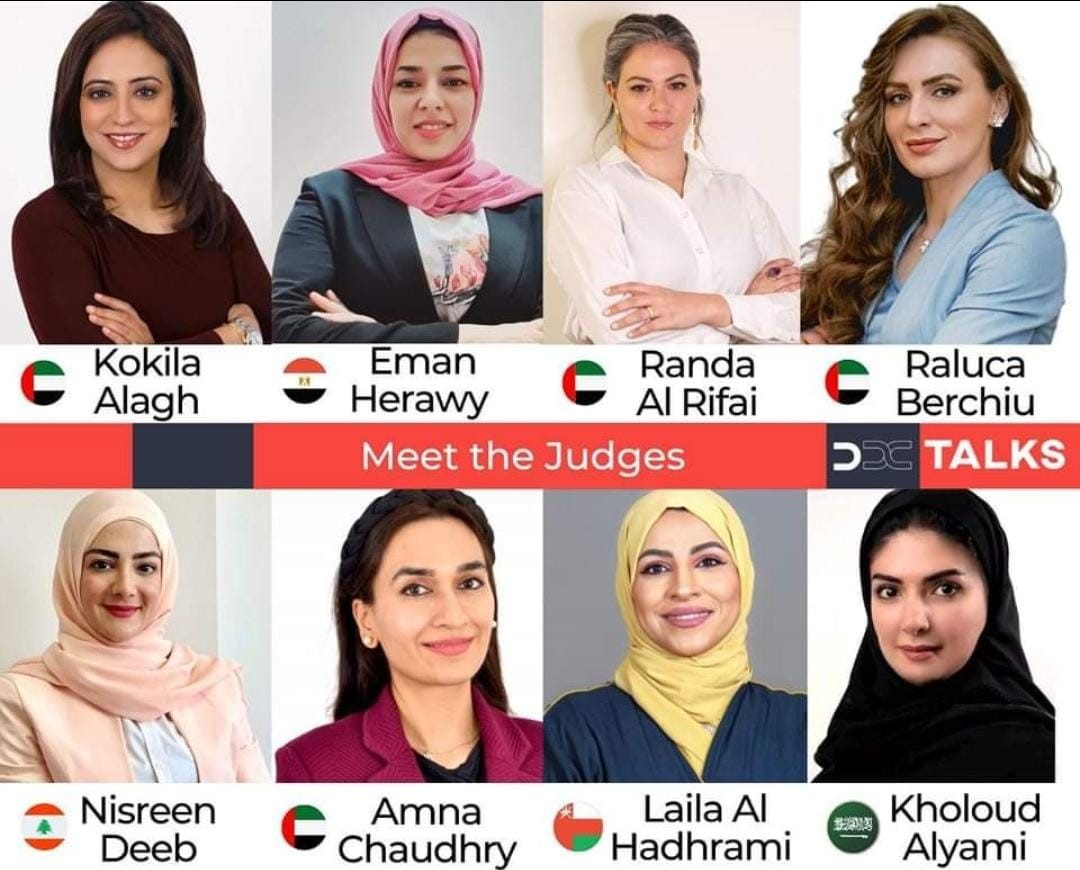 NFT Artist collaboration:
We would also like to thank the award winner, Kuwaiti artist Dr. Shurooq Amin, who is advocating the freedom of women, for supporting us in dropping the first DxTalks NFT, and the first NFT of its kind, as a certificate and proof of being chosen as top 25 women in Fintech and Blockchain and a commemoration for the event.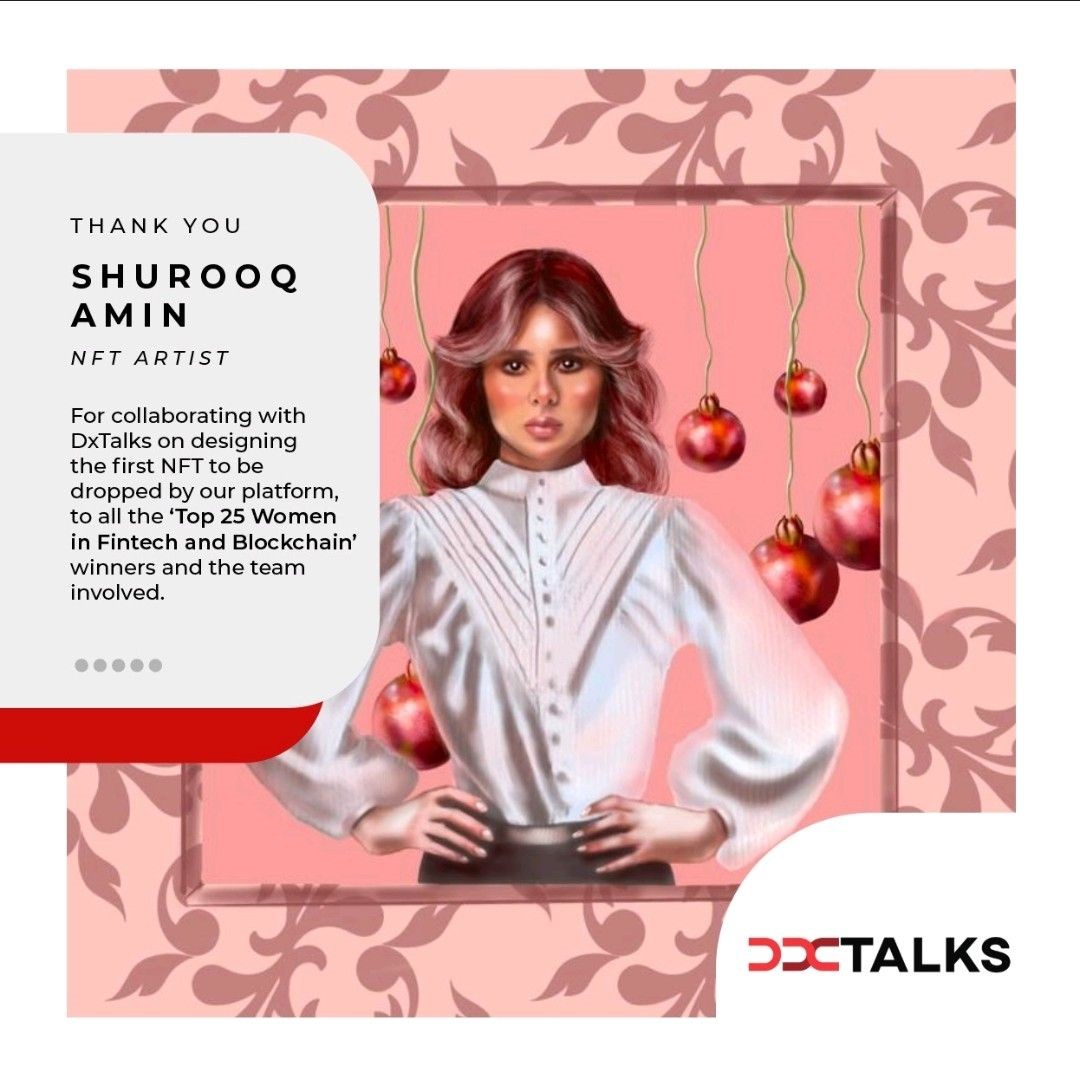 Finally, I would like to thank and applaud the entire DxTalks team for the hard work that was put in to achieve this report.
About DxTalks
https://www.DxTalks.com
Contact Information:
Nadine Bechro,
End.