Countries in the Middle East have started to realize that meeting their long-term economic development goals depends on their ability to join the 'Fourth Industrial Revolution.' The United Arab Emirates (UAE) for example, has set a National Artificial Intelligence Strategy for 2031 and appointed the world's first minister of state for artificial intelligence in 2017. In Dubai, "One Million Arab Coders" was launched in 2017; an educational platform that offers free programs for individuals interested to develop digital skills. It is described as the largest initiative of its kind in the Arab world addressed at employing a growing youth population in the expanding digital economy.
As part of Vision2030, the government of Saudi Arabia has created the Digital Government Authority and the Saudi Data and AI Authority to spearhead the digital transformation program. According to the Saudi government, it has implemented eight digital policies which have aligned 130 government departments and recorded more than 510 million transactions with a user base exceeding 22 million people (Saudi's population is 32 million, according to latest statistics). In 2022, UAE and Saudi Arabia ranked 24th and 41st respectively in the Government AI Readiness Index by Oxford Insights.
The Oxford Insights Government AI Readiness Index 2022 seeks to address the question of how ready governments around the globe are to implement Artificial Intelligence (AI) in the delivery of public services to its citizens. The index measures 39 indicators across ten dimensions, and three pillars: Government, Technology Sector, and Data & Infrastructure. The data is derived from a variety of resources, ranging from databases such as the number of registered AI startups on Crunchbase, to indices such as the United Nations eGovernment Development Index.
Despite the multi-layer crisis, Lebanon has been able to improve its position in the eGovernment AI Readiness Index from 112 in 2019, to 73 in 2022, and there is still ample opportunity for advancement. The private sector and higher educational institutions have been instrumental in this endeavor.
Arab women have been playing a key role in the advancement of the data science field. Some of these women include May Habib, a Lebanese entrepreneur who co-founded Writer, an artificial intelligence writing assistance for teams. Jordanian Reema Diab was named as an AI Global Ambassador from global AI network SwissCognitive and is a consultant for Tesla and the World Bank. Kinda AlTarbouch (Syrian), founder and CEO of Lableb, was named for MIT Technology Review's Innovators Under 35 list. Manal Jalloul (Lebanese) is the cofounder of AI-Lab, which is the certified partner of NVIDIA in Europe, the Middle East and Africa. AI-Lab aims to provide specialized hands-on training and consulting services in the fields of Artificial Intelligence, Accelerated Computing, and Data Analytics to the industry in the Middle East region.
Lebanon's Role in Promoting Women in Tech
The American University of Beirut (AUB) held their seventh annual event to promote women in data science (WiDS) earlier this year. It is a great platform for promoting women's accomplishments in the field and pushing for more. This year during the April conference, the women leaders presented an array of trendy topics on the role of data science in disaster planning, public policy, smart cities​, social good​​, and healthcare.
The Public Policy Track was particularly interesting because it showed the type of work that has contributed to Lebanon's improved ranking over the last three years. Carole Alsharabati, PhD, a Professor at Saint Joseph University in Beirut and a Founding Partner at Siren Analytics,​​ presented on how the public sector can be transformed with technology and artificial intelligence. ​​​​​​She showed how AI can help strengthen civic culture by giving example from her work on IMPACT (Inter-Municipal & Ministerial Platform for Assessment Coordination and Tracking), the platform that many Lebanese became familiar with during the lockdown periods of the Covid-19 pandemic. IMPACT was used to manage the Covid-19 vaccination process, helping avoid an additional 6,330 deaths between January and September 2021, according to an analysis by Siren Analytics. In addition, it insured fair and inclusive aid distribution to households under extreme poverty through the Proxy Means Test (PMT) during the economic crisis; 550,000 households registered, 250,000 visited, and more than 80,000 enrolled through PMT, according to data collated by IMPACT.
Accountability measures have been built into IMPACT to enhance digital auditing procedures. By combining data analytics with international best-practice methodologies, users of the platform can identify irregularities, assess effectiveness across all public administration and at municipal level, and recommend remedial or improvement actions.
In addition, in the security sector, huge efforts were mobilized to reduce crimes through Intelligence-Led Policing. Crime occurrences were reduced by about 30 percent between 2017 and 2018 because of hotspot analysis and other analytical tools. There have also been many cases of effective crime resolution due to access to information and connecting data points together.
Another project focused on detecting disinformation, fake news and the promotion of constructive journalism withArabic Natural Language Processing. Dalil is a factchecker platform deployed across seven Middle East and North Africa countries, including Lebanon, that uses AI in detecting propaganda and false news posted in Arabic.
In one example, in comparing two newspapers in Lebanon during the month of April of 2023, the content of the first one showed a 33 percent bias and 17 percent propaganda, whereas for the second it showed a 20 percent bias and 11 percent propaganda allowing to index media and – in the future – journalists by level of objectivity.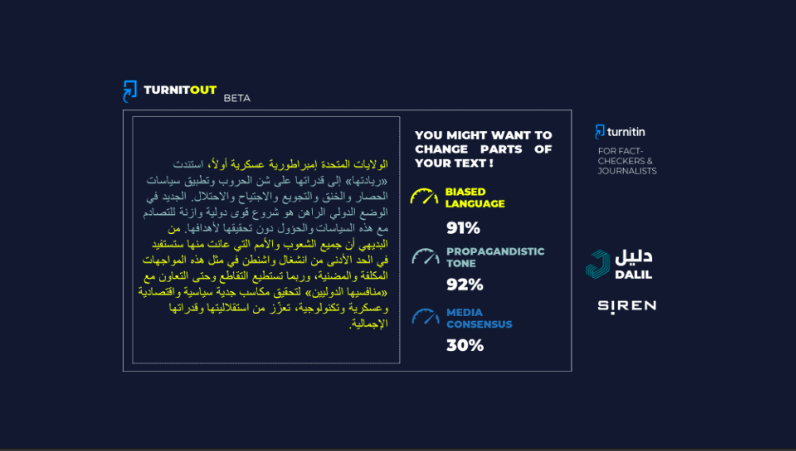 Turnitout The Deceit Detector (work in progress)
Source: Siren Associates

A lesser-known project under IMPACT is the forest fire prediction model. The predictive model of fires comes from an AI-driven algorithm developed by the Centre National de Recherche Scientifique (CNRS). The CNRS fire prediction model has successfully anticipated, at least 48 hours prior to their occurrence, 30 percent of the fires that have taken place from September 2020 till June 20, according to a report by Sirens Analytics.
Angela Elzir Assy, a labor market specialist at the World Bank,  at the WiDS event spoke about how leveraging big data can inform policy for more relevant skills development programs. The numbers were alarming. For example, the World Economic Forum launched its 'Reskilling Revolution' program in 2020, with the aim of empowering one billion people with better skills, education and economic opportunity by 2030. A new report from the National Skills Coalition, an American skills advocacy organization , used data from 43 million online job postings to assess digital skills demand. The findings reveal that 92 percent of jobs now require some type of digital skills.
Open Access to Open the Future
The urgent need for large accessible databases is crucial to drive efficiency, quality, sustainability, and resilience. Once integrated into the processes, AI can help gain efficiency, bring fairness, control fraud, preempt deceit, and much more.  AI and machine learning insights need to be exploited to accelerate problem solving.
In Lebanon, many leaders are still reluctant to advance technologies and best practices that allow data to be easily accessed, shared, and analyzed by a broad range of users because of the transparency and accountability it brings.
In some cases, state actors try to stop, sabotage or intimidate champions of change. The risks of compromising secrecy and privacy stand also in the way of data democratization. Civil society, think tanks, private sector and media need to lobby for change.
Major policy measures need to be implemented to accelerate AI adoption and promote digital transformation; these include and are not limited to:
Establishing independent research centers supported by universities to develop market driven technologies and present smart business solutions;
Creating a national council for AI and innovation and onboarding schools and universities;
Anticipating the jobs of the future and revamping educational programs accordingly;
Renaming the Ministry of Education and Higher Education as 'Ministry of Education and Innovation';
Increasing data literacy among civil servants and the wider community;
Establishing and replicating AI Hubs that present great job creation opportunities.
Women can be the drivers of change in the public and private sector to quickly embrace data-driven decision processes. They are often strong communicators, collaborators, and problem solvers, which can lead to better decision-making and more effective teamwork.
The women who presented in the AUB WIDS conference have grasped that the complexity and uncertainty of today's global challenges require us to open up access to data, collaborate and move towards data-driven work in the private, public and social sectors.
Although Lebanon has taken a few steps in the right direction, there is a dire need to revisit Lebanon's Digital Transformation National Strategy and make it on par with the ambitious strategies that other countries in the region have set for themselves. What is more important is that it gets implemented and does not stay on paper. Women have proved that they can make huge contributions and even lead the way in that direction. It is time for the Lebanese government to introduce more inclusive laws that encourage the role of women in the field of data science and artificial intelligence.
About the Author
Sana El Hajj is a lecturer at the Suliman S. Olayan School of Business at the American University of Beirut.
Culled from: https://www.executive-magazine.com/economics-policy/women-in-data-science